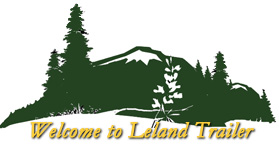 Serving You and the Transportation Industry Since 1949.
Leland Trailer Sells, Services, and has Parts for Flatbeds, Dry Vans, Reefers, Hoppers, Tankers, Dumps, Lowboys, and many other semi-truck trailers. Leland Trailer serves the entire Trucking and Transportation industries including; General Freight, Agriculture, Lumber, Mining, and Specialized Transport.
Leland's Sales Department stocks a variety of New and Used Trailers. Leland Trailer is an authorized distributor for East, Reinke, Neville, Trailmobile, Cottrell, Maxon, Aero, and many other manufacturers.
Leland's Parts Department stocks parts for all semi-truck trailers and is an authorized distributor for Trailmobile, Maxon, Firestone, Kinedyne, ProTech, Shurco and many other parts mfgs.
Leland's Service Department has 10 service bays and services trailers from all manufacturers.